Press
Press article 2020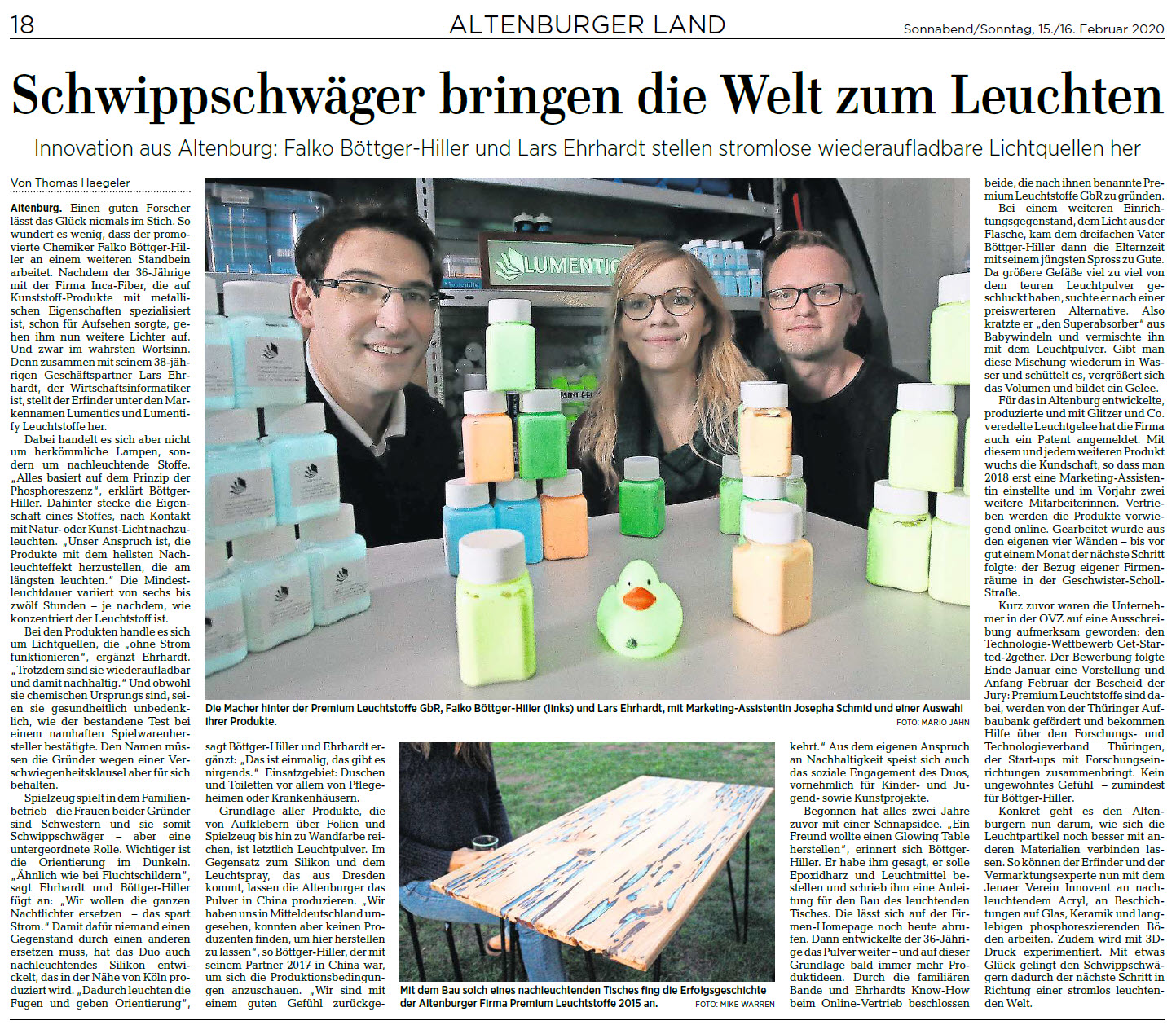 Altenburg, Osterländer Volkszeitung, Februar 2020
Einen guten Forscher lässt das Glück niemals im Stich. So wundert es wenig, dass der promovierte Chemiker Falko Böttger-Hiller an einem weiteren Standbein arbeitet. Nachdem der 36-Jährige mit der Firma Inca-Fiber, die auf Kunststoff-Produkte mit metallischen Eigenschaften spezialisiert ist, schon für Aufsehen sorgte, gehen ihm nun weitere Lichter auf. Und zwar im wahrsten Wortsinn.
Denn zusammen mit seinem 38-jährigen Geschäftspartner Lars Ehrhardt, der Wirtschaftsinformatiker ist, stellt der Erfinder unter den Markennamen Lumentics und Lumentify Leuchtstoffe her. Dabei handelt es sich aber nicht um herkömmliche Lampen, sondern um nachleuchtende Stoffe. "Alles basiert auf dem Prinzip der Phosphoreszenz", erklärt Böttger- Hiller. Dahinter stecke die Eigenschaft eines Stoffes, nach Kontakt mit Natur- oder Kunst-Licht nachzuleuchten. "Unser Anspruch ist, die Produkte mit dem hellsten Nachleuchteffekt herzustellen, die am längsten leuchten." Die Mindestleuchtdauer variiert von sechs bis zwölf Stunden – je nachdem, wie konzentriert der Leuchtstoff ist. Bei den Produkten handle es sich um Lichtquellen, die "ohne Strom funktionieren", ergänzt Ehrhardt. "Trotzdem sind sie wiederaufladbar und damit nachhaltig."
Und obwohl sie chemischen Ursprungs sind, seien sie gesundheitlich unbedenklich, wie der bestandene Test bei einem namhaften Spielwarenhersteller bestätigte. Den Namen müssen die Gründer wegen einer Verschwiegenheitsklausel aber für sich behalten. Spielzeug spielt in dem Familienbetrieb – die Frauen beider Gründer sind Schwestern und sie somit Schwippschwäger – aber eine untergeordnete Rolle. Wichtiger ist die Orientierung im Dunkeln. "Ähnlich wie bei Fluchtschildern", sagt Ehrhardt und Böttger-Hiller fügt an: "Wir wollen die ganzen Nachtlichter ersetzen – das spart Strom." Damit dafür niemand einen Gegenstand durch einen anderen ersetzen muss, hat das Duo auch nachleuchtendes Silikon entwickelt, das in der Nähe von Köln produziert wird. "Dadurch leuchten die Fugen und geben Orientierung", sagt Böttger-Hiller und Ehrhardt ergänzt: "Das ist einmalig, das gibt es nirgends." Einsatzgebiet: Duschen und Toiletten vor allem von Pflegeheimen oder Krankenhäusern.
Grundlage aller Produkte, die von Aufklebern über Folien und Spielzeug bis hin zu Wandfarbe reichen, ist letztlich Leuchtpulver. Im Gegensatz zum Silikon und dem Leuchtspray, das aus Dresden kommt, lassen die Altenburger das Pulver in China produzieren. "Wir haben uns in Mitteldeutschland umgesehen, konnten aber keinen Produzenten finden, um hier herstellen zu lassen", so Böttger-Hiller, der mit seinem Partner 2017 in China war, um sich die Produktionsbedingungen anzuschauen. "Wir sind mit einem guten Gefühl zurückgekehrt Aus dem eigenen Anspruch an Nachhaltigkeit speist sich auch das soziale Engagement des Duos, vornehmlich für Kinder- und Jugend- sowie Kunstprojekte.
Begonnen hat alles zwei Jahre zuvor mit einer Schnapsidee. "Ein Freund wollte einen Glowing Table herstellen", erinnert sich Böttger- Hiller. Er habe ihm gesagt, er solle Epoxidharz und Leuchtmittel bestellen und schrieb ihm eine Anleitung für den Bau des leuchtenden Tisches. Die lässt sich auf der Firmenhomepage noch heute abrufen. Dann entwickelte der 36-Jährige das Pulver weiter – und auf dieser Grundlage bald immer mehr Produktideen.
Durch die familiären Bande und Ehrhardts Know-How beim Online-Vertrieb beschlossen beide, die nach ihnen benannte Premium Leuchtstoffe GbR zu gründen. Bei einem weiteren Einrichtungsgegenstand, dem Licht aus der Flasche, kam dem dreifachen Vater Böttger-Hiller dann die Elternzeit mit seinem jüngsten Spross zu Gute. Da größere Gefäße viel zu viel von dem teuren Leuchtpulver geschluckt haben, suchte er nach einer preiswerteren Alternative. Also kratzte er "den Superabsorber" aus Babywindeln und vermischte ihn mit dem Leuchtpulver. Gibt man diese Mischung wiederum in Wasser und schüttelt es, vergrößert sich das Volumen und bildet ein Gelee. Für das in Altenburg entwickelte, produzierte und mit Glitzer und Co. veredelte Leuchtgelee hat die Firma auch ein Patent angemeldet. Mit diesem und jedem weiteren Produkt wuchs die Kundschaft, so dass man 2018 erst eine Marketing-Assistentin einstellte und im Vorjahr zwei weitere Mitarbeiterinnen.
Vertrieben werden die Produkte vorwiegend online. Gearbeitet wurde aus den eigenen vier Wänden – bis vor gut einem Monat der nächste Schritt folgte: der Bezug eigener Firmenräume in der Geschwister-Scholl-Straße. Kurz zuvor waren die Unternehmer in der OVZ auf eine Ausschreibung aufmerksam geworden: den Technologie-Wettbewerb Get-Started-2gether. Der Bewerbung folgte Ende Januar eine Vorstellung und Anfang Februar der Bescheid der Jury: Premium Leuchtstoffe sind dabei, werden von der Thüringer Aufbaubank gefördert und bekommen Hilfe über den Forschungs- und Technologieverband Thüringen, der Start-ups mit Forschungseinrichtungen zusammenbringt.
Kein ungewohntes Gefühl – zumindest für Böttger-Hiller. Konkret geht es den Altenburgern nun darum, wie sich die Leuchtpartikel noch besser mit anderen Materialien verbinden lassen. So können der Erfinder und der Vermarktungsexperte nun mit dem Jenaer Verein Innovent an nachleuchtendem Acryl, an Beschichtungen auf Glas, Keramik und langlebigen phosphoreszierenden Böden arbeiten. Zudem wird mit 3D-Druck experimentiert.
Mit etwas Glück gelingt den Schwippschwägern dadurch der nächste Schritt in Richtung einer stromlos leuchtenden Welt.
---
Press text - short version
"Premium-Leuchtstoffe GbR" or lumentics - that's Dr. Falko Böttger-Hiller, a chemist with a doctorate, and online expert Lars Ehrhardt. Since 2015, the two brothers-in-law have been fascinated by the effect of strontium aluminate. It sounds cryptic, but in reality it is very obvious - in the truest sense of the word. Because in powder form, it ensures that "basically everything" can get that certain afterglow effect first.
But the product range of the Altenburg-based family business goes far beyond the many, many stars that light up children's room ceilings at night. Whether in joint silicone for the bathroom at home, in paints, as granules or in Lego-like building blocks, "we're constantly thinking about what could be made to glow," say the entrepreneurs. And as long-lasting, imaginative and sustainable as possible.
Unlike LEDs, for example, which are incapable of functioning without a power outlet, lumentics' products are naturally charged by daylight and gently glow as soon as it gets dark. Whereby the definition of "bright" is one of the big challenges for the entrepreneurs. "Depending on the product, it must not shine too brightly, because the child, for example, is supposed to be asleep - despite the decorative afterglow of the fairy tale picture on the wall," the experts explain with a smile.